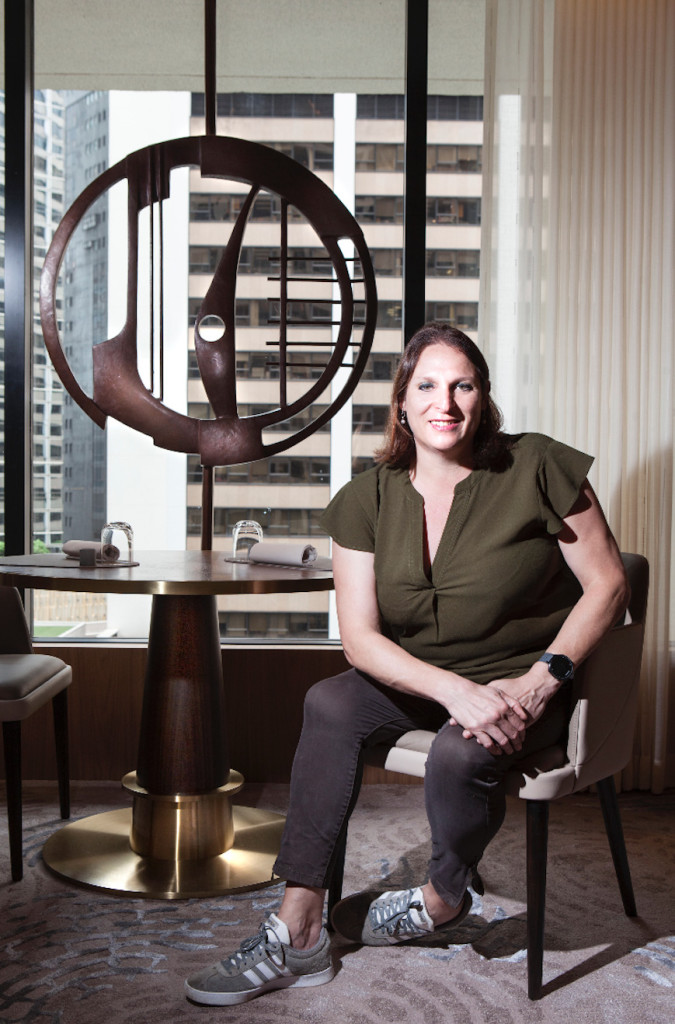 As an artist, sculpture has always been my primary focus. Despite drawing being an integral part of my creative process and thinking, sculpture has continually (consciously and subconsciously) pulled me back and demanded me to make sense of my ideas by working three-dimensionally.
Having lived in Hong Kong and Asia for over twenty years, the interplay between line, form and the structures of Hong Kong are visual elements that continually stimulates my creativity and work.
Sculpture gives me the ability to create a certain order to things and deal with the many contradictions that are juxtaposed – in our cities, traditions, cultures, and lives – which oppose, but also, interact, weave and collaborate with each other fluently and consistently. The range of materials I use (stainless-steel, bronze, glass and concrete), reflect, marry and challenge these differences".
As well as creating her sculpture in her studio in North Point, Deayton runs Design Thinking workshops for corporations.
Born in the UK in 1973, Gail studied Fine Art Sculpture at Manchester, graduation in 1994. In 1997 she moved to Hong Kong, having also lived in Dubai and Indonesia.
| 2019 | Exhibition: The Affordable Art Fair, Hong Kong- Siger Gallery, London, UK. |
| --- | --- |
| 2019 | Exhibition: 'Politics Of Moisture Show' (Group), 31-33 Church Street Marylebone, Siger Gallery, London, UK. |
| 2018 | Exhibition: The Affordable Art Fair, Stockholm, Sweden – The Fellowship Studio. |
| 2018 | Exhibition: Sculpture; Ceramics Show 2018 (Group). The Royal Opera Gallery, Pall Mall, London, United Kingdom. |
| 2018 | Exhibition: The Affordable Art Fair, Hong Kong – The Fellowship Studio. |
| 2018 | Exhibition: The Naked Hub Gallery (Solo), Hong Kong |
| 2017 | Exhibition: The Barbers Basement Gallery (Group), Hong Kong |
| 2017 | Exhibition: Faux, (Group) Hong Kong |
| 2017 | Exhibition: Sculpture; Ceramics Show 2017 (Group).  The Royal Opera Gallery, Pall Mall, London, United Kingdom. |
| 2017 | Exhibition: Skadden – Arps, Edinburgh Tower, The Landmark, Hong Kong |
| 2008 | Exhibition: The Fringe- Reform (Group) The Economist Gallery, Hong Kong |
| 2007 | Exhibition: The Fringe- The Economist Gallery, Hong Kong |
| 2006 | Exhibition: The Three Boxes Hong Kong |
| 2005 | Exhibition: The Colour Bar, Hong Kong |
| 1997 | Exhibition: The Salthouse Gallery, St. Ives |
| 1996 | Exhibition: The Salthouse Gallery, St. Ives |
| 1995 | Exhibition: The Salthouse Gallery, St. Ives |
| 1995 | Graduated from Manchester Metropolitan University – Fine Art Sculpture |
| | |
COMMISSIONS
| 2019 | Commission: 'Embrace', sculpture, bronze. Amber Restaurant, The Mandarin Oriental Hotel Landmark, Hong Kong. |
| --- | --- |
| 2019 | Commission: 'Circle; sculpture, bronze. Amber Restaurant, The Mandarin Oriental Hotel Landmark, Hong Kong. |
| 2019 | Commission: 'Landscape' sculpture, bronze. Amber Restaurant, The Mandarin Oriental Hotel Landmark, Hong Kong. |
| 2019 | Commission: Anita Miles Trophy for womens' cricket bi-annual match between Marylebone Cricket Club, London and Hong Kong Cricket Club. |